Once again, The World according to Jidoshi has influenced the World.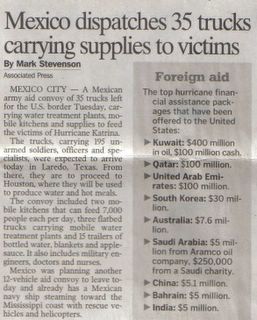 Dear reaters and staff of de Worl accordeen to Jeedoshee. We wan to offer our support in dees Worl crisees. We now take de trucks to Nuevo Orleens. To give de watter and de applesauce to de homeless peoples who leeving in de streets. We hopes you no more are mad at Mexico! We are jor friends. We are jor amigos.
Sinseerly,
De Mexicanos in de Consulate embassy place inside de America contry.
In direct response to the most recent criticism from the World's greatest online blog, Mexico has decided to offer assistance to the U.S. As far as the writers from the World according to Jidoshi are concerned, Mexico is now removed from the chopping block. But as for you France, well, its like this, France, you can still kiss our asses!!
Thank You to Mexico.
The following is an excerpt from NDTV.com
Mexico has offered an aid package to the United States that includes military equipment and medicine to help victims of Hurricane Katrina. The Mexican Navy has also expressed its willingness to send two ships, 15 amphibious vehicles and two helicopters to help rescue victims. With Friday's offer, Mexico joined almost sixty other nations who have offered assistance to the US in the wake of Katrina. The Mexican government believes that thousands of Mexicans are among those affected.